This sounds like too much fun to pass up so I'll be partying with Janice and Susan at 5 Minutes for Mom along with all of you. I'm looking forward to finding even more blogs to read..LOL! It's seriously so much finding a connection with all these other Moms (And Dads) out here in blogdom!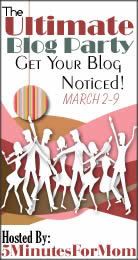 And if you didn't make it to the end of my rather long winded post the other day I'd love it if you'd like to play along with me in sharing a winter activity at my Winter Activity Festival on Tuesday the 23rd! We are sharing ideas for winter activities, games, or crafts. Fun stuff that you do with the kids indoors during these long cold days. You can post on your own blog or leave your idea in the comments whatever you want. Of course if you post on your own blog I'll put a link in the post to yours.
Don't worry I'm not delusional thinking I'm going to get a million of these I know I don't have that many readers! My goal is for 10 since there will be about 9 weeks left of winter and that would be one new activity a week until spring, plus one extra. Hope you want to come play too!